Herb Root Catalog

Shipping

Some of Our Herb Roots:
Jack-in-the-Pulpit - Out
Mallow, Swamp Pink - Out
Mallow, Swamp White - Out
Solomon's Seal Variegated - Out


Butterfly Weed Root
---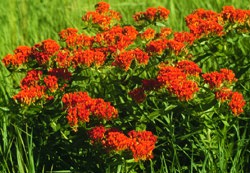 Scientific Name: Asclepias tuberosa
Common Name: Butterfly-Weed
Other Common Names: Butterflyweed, Butterfly Milkweed, Chigger-weed, Chiggerweed, Pleurisyroot, and Pleurisy Root
Plant Type:
Where To Plant:
Soil Types:

Pleurisy root is a bitter, nutty-flavored tonic herb that increases perspiration, relieves spasms and acts as an expectorant. It was much used by the North American Indians and acquired a reputation as a heal-all amongst the earlier white settlers. Its main use in present day herbalism is for relieving the pain and inflammation of pleurisy.
Shipped in November - February
Price: $4.00
Any statement made concerning medical conditions treated with this herb is not intended as sound medical advice. The seeds are NOT to be ingested only planted. Herbs need to taken only with the guidance of a trained physician or established herblist.