Herb Root Catalog

Shipping

Some of Our Herb Roots:
Jack-in-the-Pulpit - Out
Mallow, Swamp Pink - Out
Mallow, Swamp White - Out
Solomon's Seal Variegated - Out


Mayapple Root
---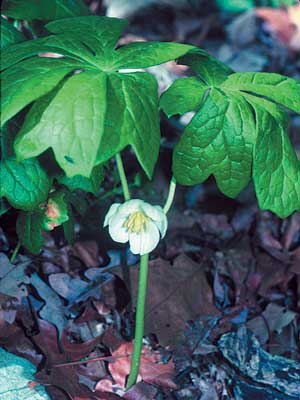 Scientific Name: Podophyllum peltatum
Common Name: Mayapple
Other Common Names:
Where To Plant: Wooded shady rich woodland
Soil Types: Average loamy soil

Perennial growing 1-2 feet high in moist woods and clearings, can grow in 100% shade to 50% shade, does best with 70% shade. Umbrella-like leaves that are waxy emerge in early April, and a white flower follows, April-May. An egg-shaped edible fruit occurs after flowering. Mayapple is used in medicine. Mayapple usually grows in patches in the wild and the early foliage is lush and attractive. Plant 2 inches deep in moist soil and mulch. Mayapple's wild range from Maine to Florida west to Texas.

Shipped in November - February

Price: $4.00

Any statement made concerning medical conditions treated with this herb is not intended as sound medical advice. The seeds are NOT to be ingested only planted. Herbs need to taken only with the guidance of a trained physician or established herblist.