Herb Root Catalog

Shipping

Some of Our Herb Roots:
Jack-in-the-Pulpit - Out
Mallow, Swamp Pink - Out
Mallow, Swamp White - Out
Solomon's Seal Variegated - Out


Golden Seal Root
---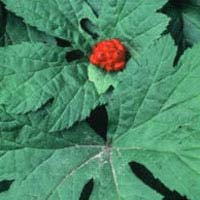 Scientific Name: Hydrastis canadensis
Common Name: Goldenseal
Other Common Names:
Where To Plant:
Soil Types:

This perennial plant is also grown commercially like ginseng, in the woods and under artificial shade. Goldenseal has been used for generations in medicine and is widely used today. Goldenseal grows about a foot tall with one or two leaves per plant, and flowers April-May, with a scarlet raspberry like berry cluster forming in the fork of the leaves. Its root is yellow when fresh and should be planted 2 inches deep and lightly mulched. Goldenseal needs 100% to 60% shade with 70% being best. It grows naturally in woods ranging from Vermont to Georgia, westward to Arkansas.
Shipped in November - February
Price: $4.00
BULK SPECIALS!
5 Goldenseal Roots -

$12.95
10 Goldenseal Roots - $19.95
25 Goldenseal Bulk Root Pack - $29.95
Any statement made concerning medical conditions treated with this herb is not intended as sound medical advice. The seeds are NOT to be ingested only planted. Herbs need to taken only with the guidance of a trained physician or established herblist.