Herb Root Catalog

Shipping

Some of Our Herb Roots:
Jack-in-the-Pulpit - Out
Mallow, Swamp Pink - Out
Mallow, Swamp White - Out
Solomon's Seal Variegated - Out


Indian Pink Root
---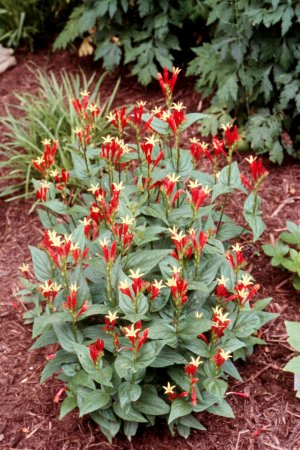 Scientific Name: Spigelia marilandica
Common Name: Indian Pink
Other Common Names:
Where To Plant: Rich woodland semi-shady soil.
Soil Types: Average

The whole plant, but especially the root, is anthelmintic and narcotic. A safe and effective anthelmintic when used in the proper dosage, it is especially effective with tapeworms and roundworm. Its use should always be followed by a saline aperient such as magnesium sulphate otherwise unpleasant side effects will follow. Grows in clumps. One of most beautiful woodland flowers.


Shipped in November - February

Price: $7.00
SOLD OUT

Any statement made concerning medical conditions treated with this herb is not intended as sound medical advice. The seeds are NOT to be ingested only planted. Herbs need to taken only with the guidance of a trained physician or established herblist.