Herb Root Catalog

Shipping

Some of Our Herb Roots:
Jack-in-the-Pulpit - Out
Mallow, Swamp Pink - Out
Mallow, Swamp White - Out
Solomon's Seal Variegated - Out


Ginseng Root
---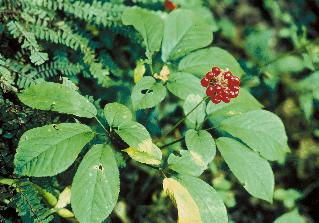 Scientific Name: Panax Quinquefolius
Common Name: Ginseng
Other Common Names:
Where To Plant:
Shady wooded, well drained damp soil
Soil Types: Loamy soil.
Do not grow near pine trees!

This is cultivated version not wild. Known as an aphrodisiac. Revered by the Chinese culture. Found in the north side of mountains in hollows. Ginseng is said to be highly good for the metabolism, and promotes general well being. It has a reputation as an aphrodisiac, but this seems to be totally based on the fact that it relaxes the overly tense person a bit. If you suffer from back pain or T.M.J. adding this to a tea of Catnip and slippery elm may help. It is also presumably useable as an ingredient in a meade or magewine. Order and sow in the Fall or Winter.

CAUTION: Don't take Ginseng and Ginseng mixtures with Coffee as it will accelerate the caffeine effects on the body and can cause diarrhea.

Shipped in November - February

Price: $4.00

Any statement made concerning medical conditions treated with this herb is not intended as sound medical advice. The seeds are NOT to be ingested only planted. Herbs need to taken only with the guidance of a trained physician or established herblist.