Herb Root Catalog

Shipping

Some of Our Herb Roots:
Jack-in-the-Pulpit - Out
Mallow, Swamp Pink - Out
Mallow, Swamp White - Out
Solomon's Seal Variegated - Out


Passion Flower Root
---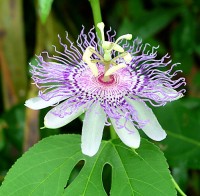 Scientific Name: Passiflora incarnata
Common Name: Passion flower
Other Common Names: Maypop, passion fruit
Where To Plant: Sunny soil
Soil Types: Average garden soil. Little sandy does best.

PASSIFLORA INCARNATA (Maypop) Important sedative used to treat insomnia, anxiety, restlessness, nervous disorders -- especially in children. It is very safe; no side effects or contraindications are known. The herb is taken as a tea or in tablet or tincture form. Now incorporated in many commercial products, this herb has become a significant American herbal crop in the Southern U.S. and Central America. Germination can be slow and erratic -- usually 30-50%. Leaching seeds in running water for 24 hours improves germination. Grows as a vine. Produces showy sweet-scented flowers and edible fruits.

Shipped in November - February

Price: $4.95

Any statement made concerning medical conditions treated with this herb is not intended as sound medical advice. The seeds are NOT to be ingested only planted. Herbs need to taken only with the guidance of a trained physician or established herblist.