Jack In The Pulpit Root
---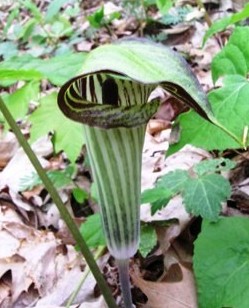 Scientific Name: Arisaema triphyllum
Common Name: Jack In The Pulpit
Other Common Names:
Where To Plant: Wooded shady areas.
Soil Types: Average loamy soil

This unusual perennial has 1-2 leaves and a cuplike flower with a curving flap, the color being green, purple or striped, blooming April-May and has a scarlet seed ball following. Jack-in-the-Pulpit grows in moist woods 12 inches high with 100% to 55% shade. Its natural range being Canada to Florida, westward to Texas. The round root should be planted 2 inches deep and mulched.

Shipped in November - February

Price: $4.00
SOLD OUT

Any statement made concerning medical conditions treated with this herb is not intended as sound medical advice. The seeds are NOT to be ingested only planted. Herbs need to taken only with the guidance of a trained physician or established herblist.