White Trillium Root
---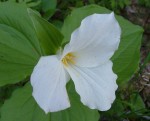 Scientific Name: Trillium grandiflorum
Common Name: White Trillium
Other Common Names:
Where To Plant: Shady wooded areas
Soil Types: Average soil, slight acidy

Beautiful white flowers in spring. Shade loving plant found in wooded areas of North Alabama.

Shipped in November - February

Price: $4.00

Any statement made concerning medical conditions treated with this herb is not intended as sound medical advice. The seeds are NOT to be ingested only planted. Herbs need to taken only with the guidance of a trained physician or established herblist.